CareerSpot Pty Ltd
www.careerspot.com.au
Project Information
CareerSpot is a company specialised in online publishing and content delivery for professionals in different industry sectors across Australia. The suite includes eighteen (18) industry specific career portals, advertiser loading platforms, content delivery platforms and administration platforms for internal staff. Each system is tightly integrated together to provide a seamless user experience for industry professionals, advertisers and internal staff. A range of technologies has been used to cater for different application requirements.
Services provided
System Design / Architecture
Main website and 18 industry specific career portals
Advertiser loading platform (for advertisers to load job advertisements)
MySpot Subscriber Portal (for subscribers to manage their content preferences)
Newsletter publishing and dispatching system
Banner advertisement serving platform
Integrated administration system (for internal staff)
System maintenance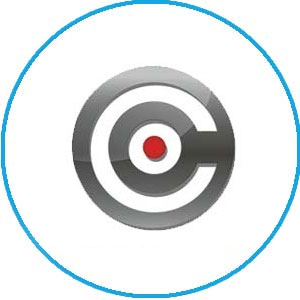 Xtreme Soft Solutions consistently delivers cost-effective digital solutions, taking pride in the high quality of their work, and taking the time to understand their client's needs, parameters and time frames.
With excellent communication skills and keen attention to detail – Maddy and Xtreme Soft Solutions are our go-to digital development agency.
Having worked with Xtreme Soft Solutions on multiple projects over the past five years, I have absolutely no hesitation in recommending his services for your digital needs.
As the IT lead at CareerSpot, Maddy has developed, designed and delivered a range of digital products including our websites, administration systems, advertiser loading platforms, and our real-time content delivery systems.
Nila Wajntraub - Director Careerspot (www.careerspot.com.au)
Trusted by major national research facilities, top universities, premier environment and water industry leaders as well as dozens of local, state and federal government departments, CareerSpot has rapidly become a central site for both advertisers who want experienced, qualified professionals to see their listings, and career-driven professionals who want quality content delivered to them digitally.
Get in touch today!
18 Career Portals
CareerSpot's suite of industry portals spans across 15 different industry sectors ranging from Government, Research, Environmental, Health, ICT, Water, Industrial, Financial, Executive, to name a few. All career portals are centrally managed via a content loading system that includes the ability for individual customisations where necessary providing maximum flexibility for internal staff while still maintaining scalability. The Content Loading System receives data from multiple sources such as in-house journalists, third party advertisers, bulk job loading platforms.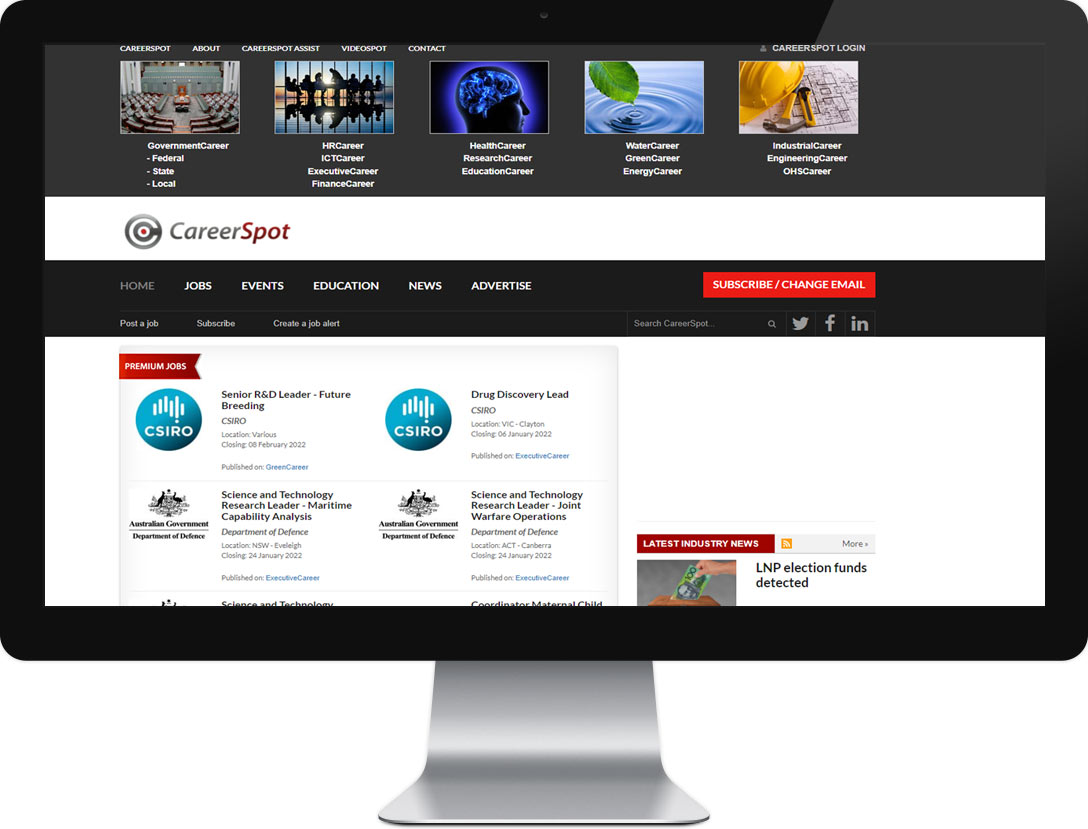 Subscription Management Platform
Subscribers to CareerSpot's suite of boards are centrally managed via Subscription Management System. The system is completely custom-written and is capable of handling subscriptions and unsubscribe requests as well as dispatching daily newsletters to a database of more than 150,000 subscribers. To ensure subscriber privacy, newsletter dispatching including tracking and bounce back processing are handled entirely via the Subscription Management System internally.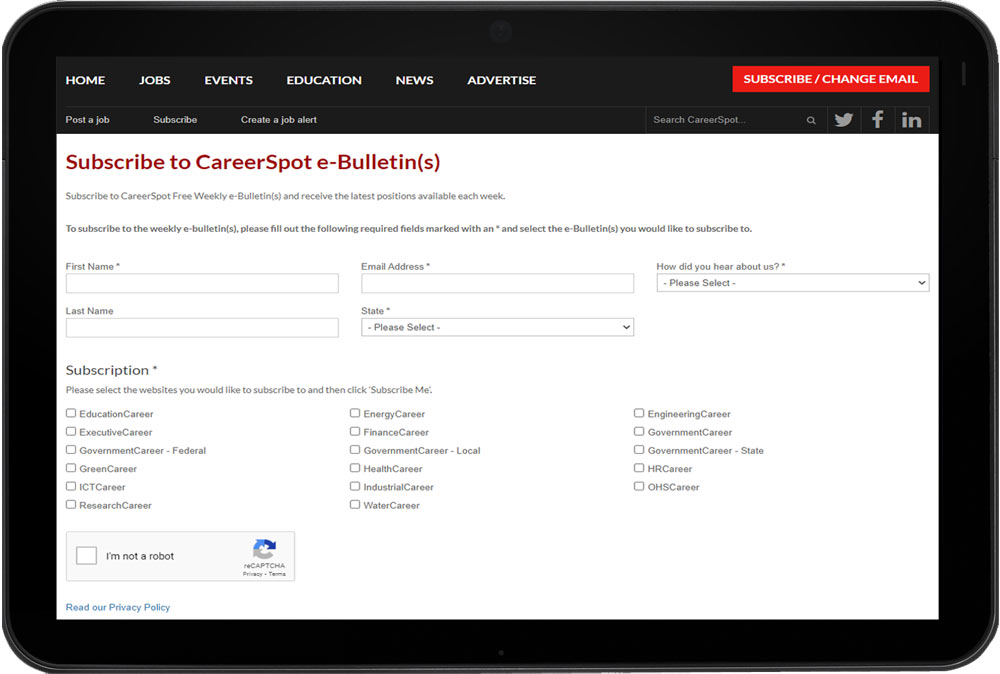 Advertiser Job Loading Platform
The system allows advertisers to load their job advertisements up onto one or more industry portals of CareerSpot. Customers can purchase either individual advertisements or advertising packages based on their requirements. The job preview function allows you to preview your job advertisement using your branded company template or just using your logo before publishing. All credit card transactions are processed via CommBank Payment Portal.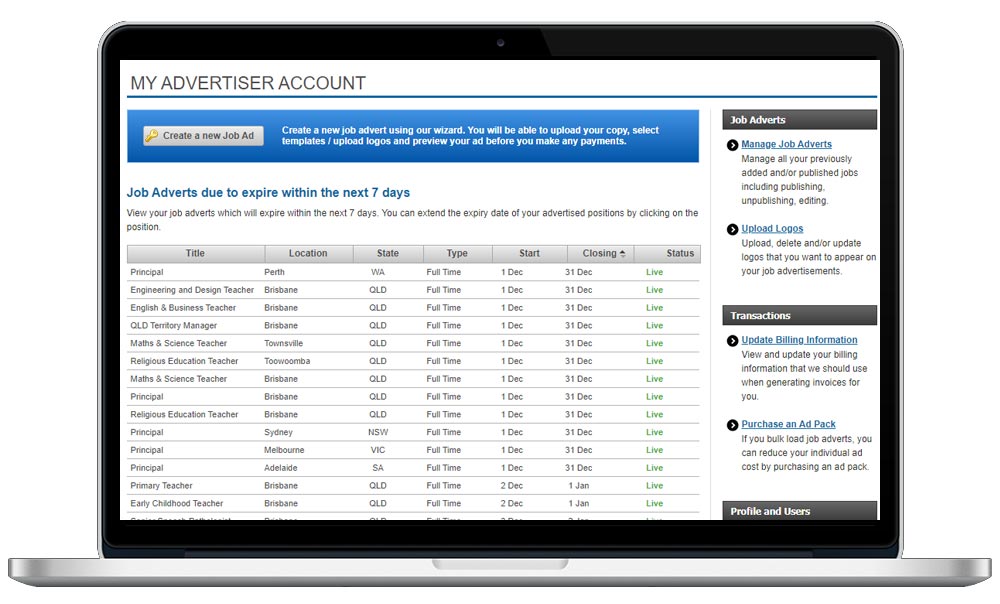 Mobile Friendly Fully Responsive Design
CareerSpot's suite of websites and applications has been carefully designed to provide maximum accessibility to customers on any device, whether it is a desktop, tablet or smartphone. This includes all the career portals, advertiser loading platform and MySpot (subscriber preferences management system).